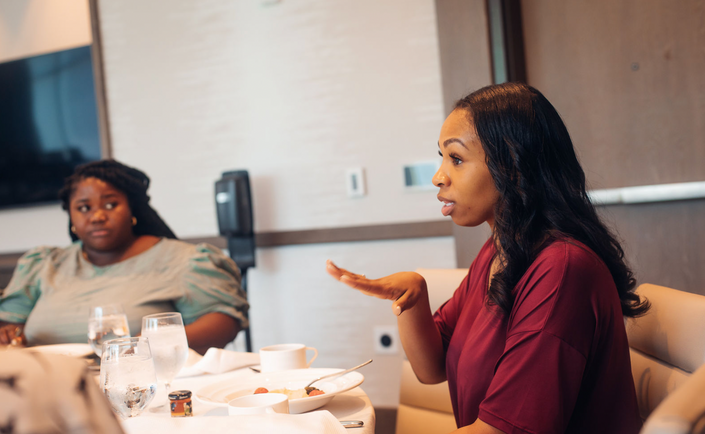 The Blueprint
Enrollment OPEN
This is for you if:

You didn't learn anything about working with clients in beauty school
You are not confident just yet in working with clients without direction
You are afraid to put yourself out into the world and need group environment to get encouraged and unstuck.
You struggle with finding your unique edge to set yourself apart from the other beauty businesses in your local area.
You struggle with basic concepts to include a clear booking process for clients and recouping cancellations.
You want to learn how to self-manage and automate a simple but clear strategy for success.
You want to have clients at the $150+ service cost without discount and irrelevant of your local area geographic.
You desire to create income outside of the treatment room digitally.
This will help you:
comprehend the reason for a clear booking process for clients to create your own
find and attract your target customer outside of social media
learn the nuances of language to speak to your target client
mastermind on marketing ideas and campaigns to guide your content online
learn strategies to begin the eCommerce or dropshipping side of business
connect with our Elites for community and encouragement in a friendly environment
many more topics presented twice a month
What is included?
A step by step guide showing you how to do a 2022 Marketing Analysis on your client.
Interactive comment section for discussion on complex topics and to submit questions for future topics.
TWO Live Classes every month for you to interact with the educators and other Elites.
Access to class replays in case you have bad service or a schedule conflict.
This is NOT for you if:
you need someone to remind you constantly to implement action
you want someone to give you fluff material
you don't want to participate or engage
you sit with your camera off during class
you don't want to login and take notes
you are not willing to invest in yourself
you are not willing to be open or apply to the provided advice
What are students saying?
Please view this review from a past student and read these reviews from other students who have invested in our courses.
This membership will help you get clear on what direction you want to take your career.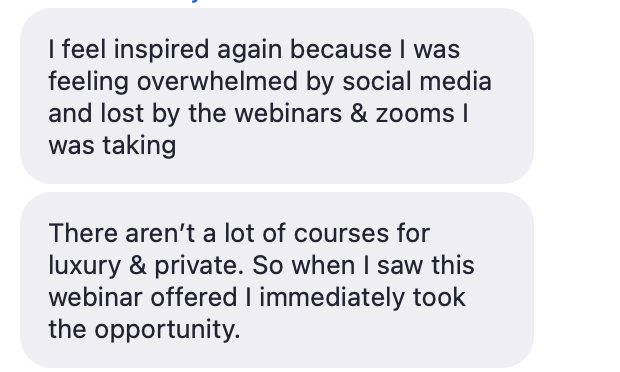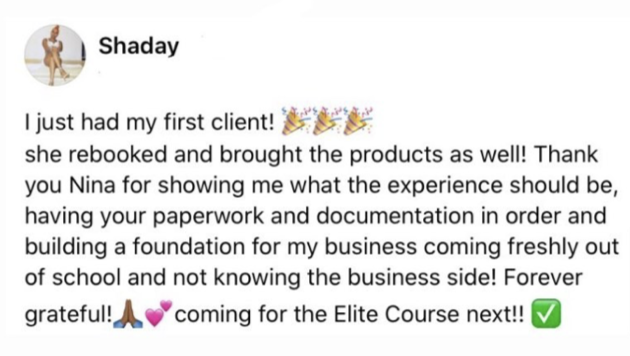 FAQs:
When is live class?
Class is held every 1st and 3rd Wednesday at 7pm CST via zoom.
Is this membership for students or licensed estheticians?
BOTH. This membership has light content that helps you while in school to help you prepare for your future career or if you are already working under your license and needing guidance to position your career or business. It all begins with your service and hospitality.
Do you offer one-on-ones?
This membership does not include one-on-one calls. You are encouraged to attend the next conference or email our office to apply to Nina's Inner Circle if you desire one-on-one business strategy.
Do you offer payment plan?
For this membership, there is no payment program. The investment is $100 per month.
The course is closed for enrollment. When will it open again?
Tuesdays at 9am CST. Be sure to opt-in to receive email notifications.
Any other questions email [email protected]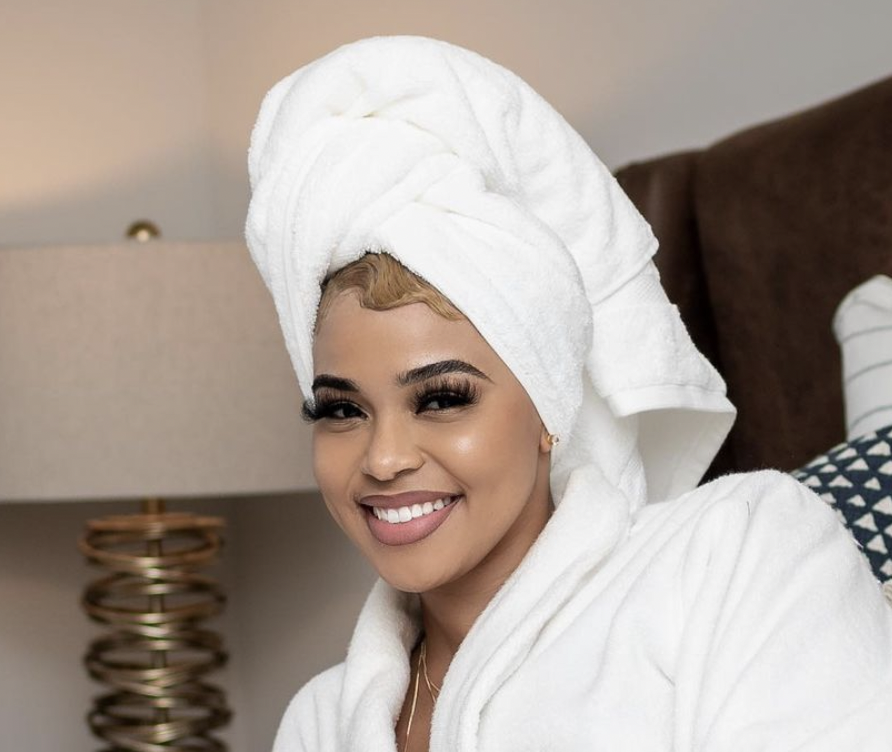 "Nina is an AMAZING and inspiring esthetician and specialist. She has been great at educating estheticians like me and has helped me grow as a solo esthetician to now a full storefront w/ employees - beyond what I could imagine! She really gives you the keys to taking you from a hobby to a measurably growing business. Forever grateful to have her as a mentor."
- Taj Mahaly, Owner, Mahaly Spa, Greensboro NC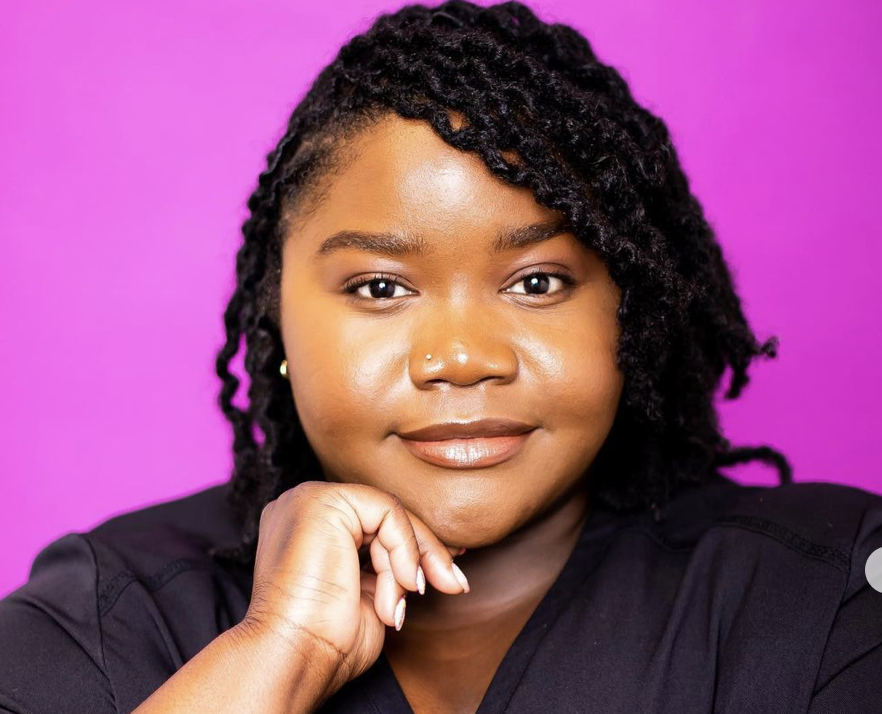 "When I invested in the intensive course I was all over the place, just stressed! After sitting on it for almost 3 months I finally scheduled my 1-on-1 with Nina. Once we talked I started implementing what I learned into my business and haven't looked back. I'm very grateful that I let go of the fear and was able to hit my first $10k+ within a month. So if you are a professional looking to have a strong foundation, work smarter and not harder this course will help you get to the next level! Trust the process."
- De'Aundria Hartford, Owner, Queen Deavine Esthetics, Houston TX
Refund policy: There are no refunds on our digital products.
Disclaimer: All testimonials are from students who took our classes. We do not guarantee income or results. The testimonials on this page may not be typical for all students.